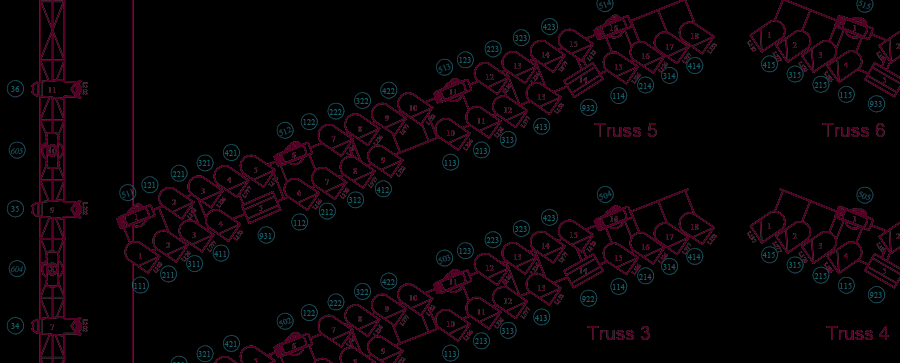 By Anthony | Production
Production Design Services
Lighting design, Set design and construction, stage management, production management and overall production design.
After Dark Theatre has a full design team that is able to create and compliment your vision. If you are tasked with the complex role of event design, theme and concept creation, we can help.
We provide the following design & production services:
---
Lighting Design
After Dark Theatre's team has won a string of awards for lighting design and has been involved in the design of many award winning circus, theatre, musical theatre and dance productions. We have experience in small productions, high school musicals to large scale productions with complex intelligent lighting rigs. Our thorough pre-production ensures a smooth presentation of your show. Within our production design services, we can provide full touring specs for your production to allow for a smoother bump-in time frame; allowing you as the tour manager or producer to allocate more time to other touring logistics and the performance itself. With a extensive amount of tours in our portfolio, After Dark is experienced in providing detailed tech specification suited to you tour, budget and show.
We save you time!
With our full 3D render suite, you can visualise everything without having to spend thousands of dollars on hiring a venue and equipment to visualise your artistic vision. the rendering suite also allows the programming of more advanced performances that would otherwise be impossible due to budget and time considerations in the theatre.
The benefits of a fully professional LX design, without breaking the bank.
Catering to a large demographic of clients, After Dark has a range of options for designs. This includes straight 'buy outs' and royalty based designs with lower initial fees to ease the financial burden on a new and upcoming production. With all our designs, we offer full technical support to ensure your project's quality is never compromised.
Corporate Lighting Design
We know your event is special and in most cases, once off. The pressure is on to create a particular mood or feel and this can turn what should be a fun, creative role to a daunting experience. After Dark is here to help! We can generate the perfect feel for your event to match your production design.
---
Venue CAD
If you are a venue and are looking at buying new lighting products, or a festival hub site and need to organise designs to send out to multiple producers, then you'll need your venue drawn up in CAD or 3D rendering.
After Dark Theatre's design team are adept in working with Lighting visualisation software, Photoshop and Sketch up Pro to create your venue. This is useful for organising seating arrangements, testing lighting rigs, logistically planning how many patrons your venue can hold, as well as being a powerful document and file for you to send off to potential clients if your venue is for hire. A festival site that sees your venue in full 3D are more likely to book your venue over another venue with lacklustre paperwork.
You don't have to be a venue owner to get a Venue drawn up.
If you are touring a production or have minimal information about a venue, we can create a 3D model for you to visualise how you can work in the space. Contact us to discuss your project in greater detail.
---
Theme & Concept Creation
Every event or function needs a little something to make it stand out. A clever way to make your event differ from others is to introduce a theme. This is where we can help. Our team are able to create a unique concept, bespoke event or themed function so your clients and patrons are entertained throughout the night. This service can contain: tailor-made entertainment packages, a custom show, room renders to visualise your theme, music and live entertainment to match your vision and much more.
Not sure what theme you are wanting? Leave it to the design experts.
Creating unique productions and themes is what we excel at. We can work out a suitable theme for your clientele demographic, customise a performance to make it memorable, design your colour-scheme and aid you in the operation and execution of your event.
There is no event too big or too small; from a side room at a bar or club, to a themed gala night in a major function space; we are able and happy to help.
If you want to browse some of our themed event ideas, please click here.
---
Audio Visual & Video (VJ) services
If you prefer moving image projected to surfaces or something to compliment a DJ to your event, then why not utilise our AV and V-jay services? After Dark Theatre is able to design and operate high impact visuals to compliment your event. This form of passive entertainment is designed to engage your audience or to immerse them into your event. It is also a great compliment to a DJ or the dance bracket of your evening.
Like what you see or need to talk your idea out with one of our event and design consultants? Contact us.
---